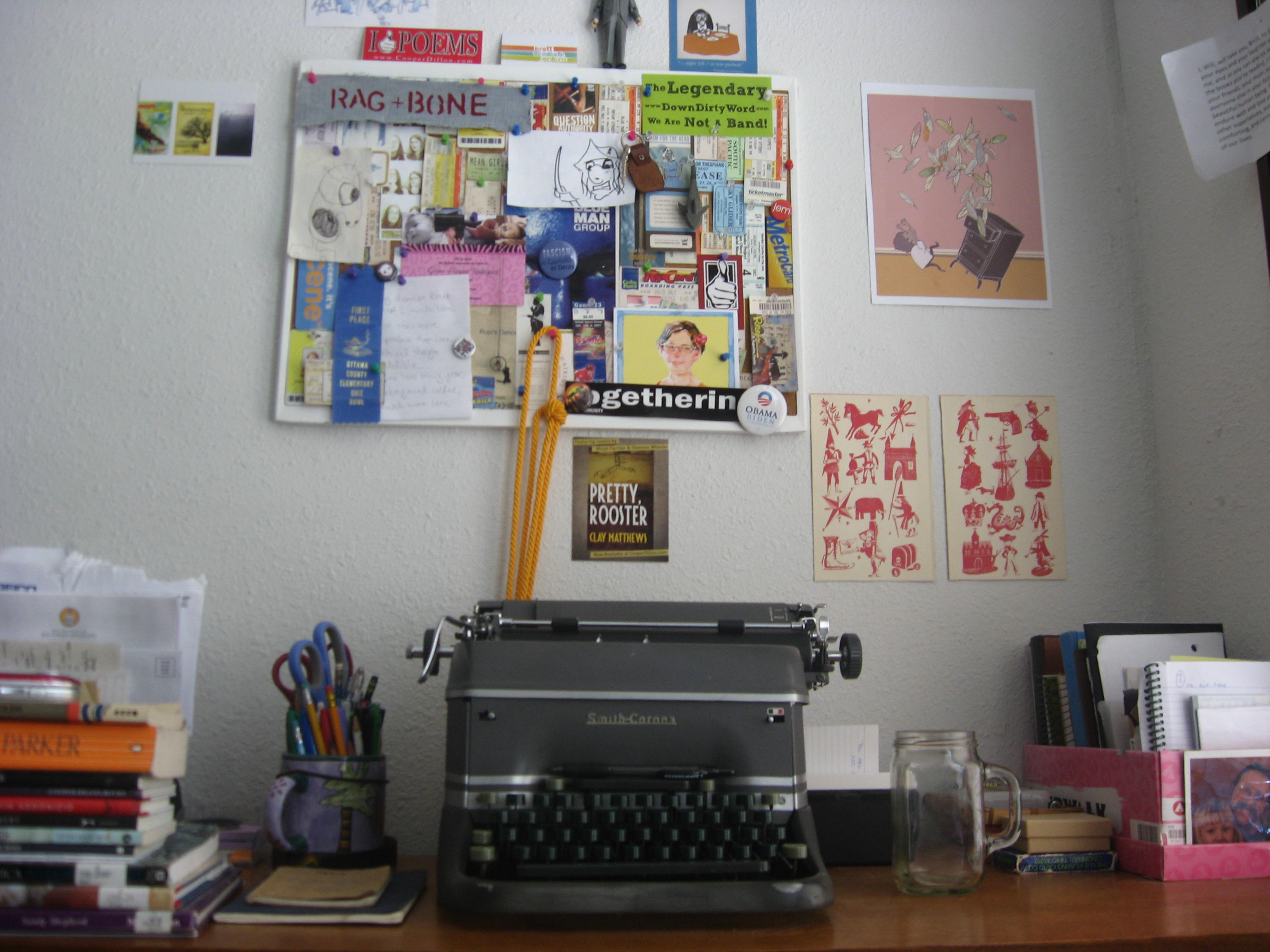 Behind the Scenes With Writers – Desk Porn 2: Electric Boogaloo
I have been lecherously staring at all these desk pictures I've been sent over the past couple of weeks. Then I realized I would feel less creepy if I actually shared them, instead of these desk owners thinking I'm emailing to ask for pictures of desks I'm just going to keep in a folder on my desktop titled "Desk Porn."
Remember to attain full creep factor, enlarge and zoom in to find out what's really in these pictures.
This is the desk of Elijah Burrell. Here's a fancy lamp, some yin yang balls (hee hee), handwritten poems there on the right, and, of course, some candy prominently featured in the desk thingy. When reached for comment, Eli said "GOTS TO HAVE ME SOME BLOW POPS. YOUKNOWWHATIMSAYIN?"
Here are two pictures of Tod Goldberg's desk, along with the entirety of his email to me, which was too good not to include here:
"Attached are two pictures, since i didn't know if you wanted a shot of the full space…which, uhm, includes a dog…or just the desk.

So here's what we have:

On the desk are all the normal things you might expect — computer, Altoids, a scrunched up FedEx form that the great poet Reb Livingston filled out so I could send her back some books, but then, uhm, I washed it and now it's hard to read and impossible to attach to the FedEx box, so now I gotta get my ass to the FedEx, but everyone has that on their desk so i won't belabor the point — but then I also tend to keep a few talismans around. There's a snow glob [editor's note: don't know what a snow glob is but sounds scary] of the Hotel Del there to the right of the computer. There's a wicker thing to the left of the computer that has a bunch of baseball cards from guys who have sexual names (Rusty Kuntz, Dick Pole, Randy Bush, Danny Cox), plus a baseball card for Steve Wynn from the Dream Syndicate. In front of the wicker thing to the left is a stamp box that belong to my grandfather. There's nothing in it. I just happen to like having it on my desk. beside that is travel case of some kind that belonged to my grandmother and is embossed with her initials. The shit ton of books to the left represent a bunch of books I'm either supposed to be reading to write book reviews of, or books I want to read, or books I've read recently, or books I'm using to teach from, or books I just left on my desk. There's one of the seven copies of Bright's Passage by Josh Ritter I've inexplicably received in the mail from different publicists, there's a copy of Cape Cod Noir edited by my friend David, there's the Bayou Trilogy by Daiel Woodrell that I'm supposed to review…and then on the other side of the desk there's a review copy of What It Is Like to Go To War by Karl Marlantes, who I have a huge writer crush on, so I've been reading it really slowly. What else? There's a spreadsheet for the budget of the MFA program I'm in charge of that, uhm, I don't really understand, so that's nice, there's a tactical pen that I can use to alternately write things with or stab a perp in the neck with, which, you know, could happen at any moment. Between the snow globe and the other wicker thing are two letters I received from former students of mine that remind me why I'm a professor in addition to the kind of person who spends the majority of his waking hours thinking of ways to kill people (on the page, naturally). And then all of the empty space on the desk is filled with angst, dread, and self-doubt."
Whew. Also visible is the aforementioned zombie-dog, a huge-ass bookshelf, and a flashlight for illuminating those perps that are in for a good neck stabbing.
Here is the desk of
William Braun
, my one true husband! He likes to stand while he writes, so he puts his desk chair ($2 at the Salvation Army) on top of his desk to make a little platform for that. Also featured is assorted paperstuffs, a picture of us at my undergrad graduation, and a book called
Mimesis
that is falling apart.
Here is, finally, a shot of my own desk, which was previously featured on
Hazel Foster
's Ultimate Writing Desk Search. You can see
another shot of my desk
there, but I like this particular picture, because you can see the little feets of the Sigmund Freud action figure that I super-glued to the top of my bulletin board. Also pictured here: various little pictures, stickers, postcards that distract me when I should be writing, a
Rag + Bone
poetry patch, my honors cords from my high school graduation (baby Brett!), a huge stack of books I should be paying more attention to, and, of course, my wonderful Smith-Corona typewriter I got from a local antique shop for $25. Easily the best $25 I've ever spent.
Please feel free to send me pictures of your own desks, as I hope to continue this project. I never tire of looking at desks, and peeking into the lives of other people. To submit your picture, email me at brett[dot]e[dot]jenkins[at]gmail[dot]com.
Also, here is a creepy picture I found of of Ashley Olsen in which she looks like Michael Jackson:
Sweet dreams!