Lit Post! Lit Post! Here it is! Lit Post!
Okay guys and girls, I have a lot of stuff for you to read this week, so here's a picture of Judge Joe Brown.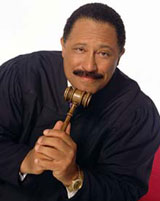 Here is the current issue of Specter, in case you missed it.
Stymie Magazine is looking for sports-related poetry for a special all-poetry issue set to come out this winter! Guidelines are here.
Gregory Sherl to edit an all-poetry issue of NAP in February.
Submissions close TOMORROW for Missouri Review's Editors Prize contest. Go now!
For all you teachers out there: the top ten ways to wake up students in your class.
Two poems by Helen Vitoria and one undulation by Ben Tanzer at Used Furniture Review.
Issue Two of Safety Pin Review is out. Wear something by J. Bradley.
At fwriction : review, Meg Tuite.
Um, this is still real, and still awezome.
There's been a lot of talk about this new Amazon Kindle thing. I dunno, I read real books.
J.A. Tyler on J.A. Tyler.
Buy any two No Tell books between now and Sunday, get a free tarot card reading or dream interpretation.
Emma Straub: "Crushing on teachers was my hobby, and I was good at it."
Susan Tepper in Art Faccia.
If you haven't been to Words with Writers yet, go now! Check out the recent interview with Matthew Zapruder.
parking lot by David e. Haase at Metazen.
Susan Paola to edit a non-fiction issue of Drunken Boat.
PANK has put out its Best of Net nom nom nominations.
There's currently an awesome sale going on over at Tiny Hardcore Press. It ends Thursday at midnight, so shake your groove thing on over there.
Vouched Books has an Awful Interview up with Patricia Henley. And speaking of Vouched, if you're near the Indianapolis area, make sure to attend the next Vouched Presents event!
Dirk Walker has another Specter Podcast in the makes! Go here to subscribe!
"Bitter Bones" by Ken Sieben up at pressboardpress.
Over at The Rumpus, Sam Riley teaches us how to write a love poem.
A thoughtful article about chick lit by Roxane Gay over at HTMLgiant.
It was banned book week all week. Did you jump on the banned wagon? Here's a list of books challenged or banned in 2010-2011.
Eric Burke has three poems at Right Hand Pointing. Here's the first one. Click the pointing hand to continue.
In Mud Luscious 17, Robb Todd and David Tomaloff.
That's it! Go do something weekendy!