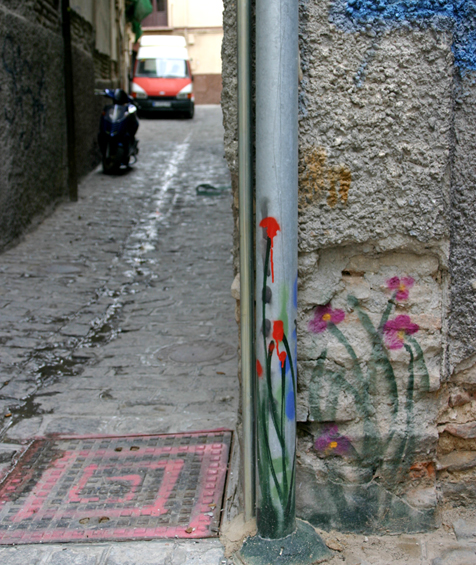 "Plain Yogurt, Floral Bathrobe & Malika" by Sara Seaton
I miss the honest conversations with the unfamiliar woman.  Her name was Malika.  She knew little about my procrastination and severe genetic republican disorder.  We sat together for dinner every night.  We ate at sept heure et demi. I used to pass the day speculating on what would be set out for me to devour.  The first week there was near silence while we ate.  Because of le silence, I would study her. The woman's hair was kalamata olive and her skin was like almost burnt brioche.  Her wrinkles were tightened corn silks.  Teeth gray from smoke.  She rolled her own cigarettes.  Blonde tobacco and tiny sheets of paper sealed with a lick.  She taught me how and then she smoked the little rolls of thread, tapping the ashes into a used espresso cup.
Every night the food was different. Algerian, and always a fresh baguette wrapped thoughtfully in a tea towel. She made me roasted beef bones, with the marrow dark and purple, oozing out into the oils, exhaling breathes of oregano and garlic.  She liked the marrow. It reminded her of her mother and Algeria.  The times before the war carried them away from l'Algérie.
When I left her after five weeks, she had tiny tears in the corners of her eyes, but when Jean-Daniel left, she had streams staining her face.  I was in my room and heard the door slam too early in the night.  She threw down her boxy purse on the tile of apartment trois cent et un – trois, zero, un.  Screaming JE SUIS FINI, JE SUIS FINI AVEC LUI.  She was finished.  She said he said nothing. Rien. They went for a drink and then it was finished.  I did not have the words to console her. I did not know them yet. So, I made my Algerian woman tea and asked her to proofread my essay about the deserts in Saudi Arabia.  She corrected my spelling and told me I had done well.  I tried to tell her that he wasn't worth it. He wasn't worth les gouttes. Raindrops. I meant les larmes. Tears. That's when she told me about the divorce and how it happened ten years before.  He was in Paris now, she said.  She didn't love Jean-Daniel.  They were just lovers, she said. The loneliness of the apartment was too loud and Jean-Daniel filled the noiselessness with commotion, juvenile and exaggerated.  I miss morning encounters with a tan, white haired Jean-Daniel, wearing a small floral bathrobe.
I miss the early morning instant coffee and brisk walks past that tall, tattered medieval tower.  I always thought it completely impossible that the bombardment of the first and second World Wars barely ruptured the stone, or brick or whatever it was made out of.  I walked past that tower every day for five weeks. Looking up. Pondering upon the idea of something protruding up so high, yet refusing to be hit.
I stopped by the bakery across from the square, only when the night before prevented me from waking up in time for instant black coffee and plain white yogurt.  The glass doors to le boulangerie were heavy from the pressure of the odor of sweet yeast and buttery flakes. The baker was not friendly.  She asked me what I wanted and that was all. No bonjour. No comment allez-vous. I miss the round and unfriendly woman behind the counter and I miss my kalamata olive femme d'Algerie.
+
Sara Seaton lives in Tuscaloosa, Alabama with a fat cat and two very nice house plants, Herbert and Soleil. She used to live with a woman who only said things in French. This is the first piece she shared with humans.