Book Review: Cristin O'Keefe Aptowicz's "Working Class Girl Represent" and "Hot Teen Slut"
I first came across Cristin O'Keefe Aptowicz during my slam poetry phase; though I didn't write much of it, I did love to watch it, and one poem that caught my attention was hers, in which the female speaker uses a barrage of literary allusions to insult her ex-boyfriend. From this poem, I borrowed one of my favorite phrases – "go Plath yourself."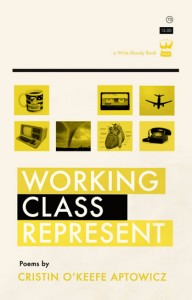 So naturally, I was delighted when I read her poetry collections Working Class Girl Represent and Hot Teen Slut, published by Write Bloody Press (an independent press I happen to admire). Both funny, entertaining reads begging to be performed in person, these collections represent the growth of a young poet with the audacity to write when others would not – Aptowicz is a poet with a day job, but this fuels rather than distracts her, a smart move all things considered.

Working Class Girl contains some familiar scenes: drinking coffee at work, answering phones, taking "days off" when the boss isn't there, things of that nature. While some poems are worth a grin, and maybe a chuckle, others caused me to nod. For instance, "In the Movie of My Life as I Sometimes Imagine" features a speaker that  could be any one of us: As a young writer, aspiring writer, yet-unpublished novelist, take your pick, I relate to many of Aptowicz's concerns. It's hard to put food on the table or buy clothes, or save money, from your publications in small literary magazines – (if you've managed it, let me know) – and so most of us swallow our pride and try the workforce to make ends meet. Hey, it happens, and often it isn't even so bad. Sometimes it's the best thing we can do, not only for our pocketbooks, but also for our writing.
My weary character is messy but determined.
The montage itself is supposed to reflect life's
monotony, but there's pockets of humor too:
the mornings I'm so tired I don't realize I am
holding my book upside down.
The mornings of several mugs of coffee, and my slowly shrinking to-do list (only to increase exponentially after lunch), and the afternoons where I picked up my laptop and adjusted my hairband and didn't realize I was wearing my cardigan backwards. Writing on the bus, except when I was reading instead. Arriving home too exhausted to do much more than watch television and tweet. God bless you, Cristin, for making time to write.
Because sometimes, frankly, it's hard. Sometimes you're not at work, and you just want to very, very quiet, and sometimes you are at work, and want to pour words on a page, but there are things you need to do because someone is paying you to do them, and this makes you quiet later. Here's to working and paying bills and checking bank accounts and sinking into your sofa and staring at the ceiling, and here's to the writing you write some of the rest of the time.
Sometimes I imagine the music playing over
the opening credits. Is it happy? Is it sad?
Does it make any difference at all?
It makes a difference.
Hot Teen Slut is not the collection I expected. In one poem, Aptowicz describes her friend's puzzling decision to wear socks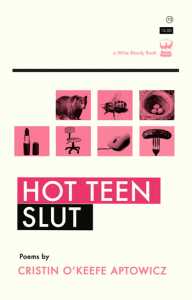 during sex, and follows it up with the conclusion: "This is modern life, and this is why I am a virgin."
I don't get it (or maybe I'm too distracted by the idea of a virgin working at a porn site to contemplate the socks). I also don't understand Aptowicz's job working for an erotica website, given that's not exactly in my realm of experience, but I do find a lot to admire in her approach to all of it. Let it be known that I have reviewed several books about lust and longing, and none of them are quite this upfront about their humor. That's not a bad thing. Sex, too, is funny, especially as a commercial product.
When I first started working as a porn writer,
I thought I would encounter different
and far sexier terms for women use
than wet, but no! Everything's wet!
True enough. Her observations ring with honesty, and I can't help but think about female empowerment and humor and honesty and where this all ties together, but good luck trying to make that a coherent thought. Select publications and columns aside – the "Funny Women" column published on the Rumpus and edited by Elissa Bassist comes to mind – there are precious few women attempting humor in literature, and fewer joking about sex.
But Aptowicz does. She's entertaining and frank and never once do I sense true hesitation on her part – if that's not something to admire in a female writer, I don't know what is. Between Working Class Girl Represent and Hot Teen Slut, I think she's a poet to watch.