"(Re) Imagining" by Jessie Carty

after Jack Gilbert
It's a shame that memory only works in (re)verse; that music must be made for what never
happened because memoir is never a photograph but more a poem, a collage of the food fight
that was only one can tossed against a wall and not the f(re)nzy of ketchup coated F(re)nch fries
against the sliding glass doors that is instead written because we all want the inte(re)sting story -
the d(re)am time of (re)imagining; the chance to make new words without centers like fnzy,
fnch, inte, sting, dam.
+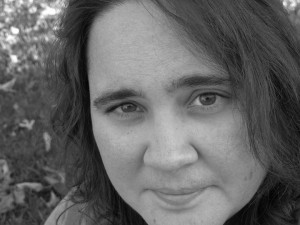 Jessie Carty's writing has appeared in publications such as, MARGIE, decomP and Connotation Press. She is the author of four poetry chapbooks which include The Wait of Atom (Folded Word 2009) and the upcoming Fat Girl (Sibling Rivalry, 2011) as well as the award winning full length poetry collection,Paper House (Folded Word 2010). Jessie teaches at RCCC in Concord, NC. She is also the photographer and editor for Referential Magazine. She can be found around the web, especially at http://jessiecarty.com where she blogs about everything from housework to the act of blogging itself.