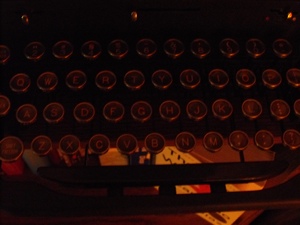 Mick Davidson: Two Poems
Deep Machines
Resonate, vibrate, call to me over the wire, through the vast dry space, a corridor of emptiness that draws us together.
Hear the clanking of the deep machines, feel the giant metal shoulders stretching. The sinew-snap muscle pressing relentlessly on, pulling the ships hand over hand, together.
Walk along the dry brittle-bones of the desert; burnished grey-white desiccations that claw the air for the love of passing water.
Grease the wheels and cogs that spit and scream, their voices buried in the dark. Their axels rotate, revolving, their strength bolted and going nowhere.
They grind the world forward, even while it sleeps: every day is one day more, and one less.
Transform, transit, on route to an intangible now; the idea of a flag spiked into the bloody dust.
I hear it snapping and cracking out your words, a song that loops and flows, that lives above and below, that bleeds into the edge of the invisible: spun by the hidden engine of the inevitable.
***
Times When Times Are Hard
There are times when, times are bone-crunching hard, hard as banging nails through the back of your hand. When the half-smile of a stranger twists you like a ragged cloth, ripping the tears from your eyes.
Yes, there are times when, times are hard, hard as walking up a burning mountain as red hot flints shower down on your dreams, which scream as they boil and spark away into the night, abandoning you to the dirt.
There are times when, times are hard, hard as breaking a heart with the truth or the razor of a few careless words, or the sound of a car door slamming goodbye.
Yes, there are times when, times are hard, relentless, when times drive you into the ground, care-less and ignorant of your presence.
+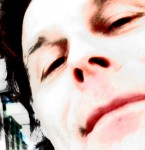 "My writing skills have been earned by reading a lot, and by writing almost as much. Some of my favourite authors are Cormac McCarthy, Borges, Garcia Lorca, Micky Spillane, Ursala de la Guinn, Laurie Lee, Marvel comics and Dr Seuss.
"I'm British but live in the Netherlands and have travelled widely in Latin America, and in certain parts of Europe. At age six, I abandonded my childhood to my mother's mental illness, divorce and a long fight with the authorities: I found it again at the end of my teens when I discovered writing and playing in bands."